Boracay, Hot!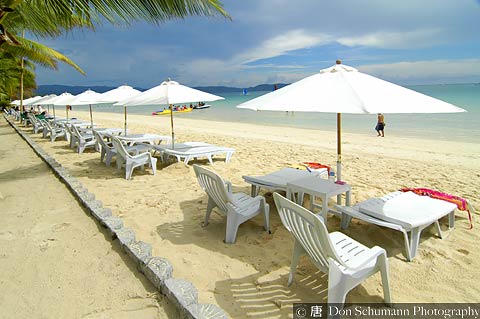 A
nswer:
Hello Lance,
Lance from? Mind if you give me some hints?
Thanks for newly buying my travel book of Dream Vacation Islands.
I will be flying in Boracay later this week, too. For 3
2
different projects with 3
2
different groups of coworkers, till early October. Then take off for another destinations afterwards.
Boracay offers wide ranging type of accommodations. Even its 5 star hotels are so affordable compares to other countries, so to speak. Please keep that in mind, it is not yet peak, but high season rates applied starting in October. It might be a good idea to cut down the hotel room budget, in order to stay longer on this can-not-miss-in-a-lifetime world class island. I believe you will get something to fit right into your budget with no problems at all. Good luck!
Have fun,
Don Schumann
Chinese translation:

Answer:

Hello Lance,

Lance打哪來? 你是否介意給我些提示?

感謝新買我的旅行書 窩在五星級小島。

我將在本週末也是要飛到長灘島。 為 3

2

個不同工作與 3

2

個不同工作小組共事,直到十月上旬。 然後離開,飛往另一個目的地拍攝另一個案子。

長灘島提供膳宿的類型廣泛。甚至,與其他國家比較,它的5星級大飯店價位幾乎人人都付得起。請記住,目前雖不是高峰期,但是每年十月起會以旺季價錢在估計。它也許是一個好想法,刪減旅館客房預算,為了延長停留在這個終身不能錯過的國際級海島。 我相信你將會很容易找到適合你的預算住宿,沒有問題的。祝好運!

Have fun,


Don Schumann
Begin forwarded message:
Q

uestion:

From: "Lance"
Date: September 17, 2007 9:11:17 PM GMT+08:00
To: donschumann
Subject: greeting to Don


Dear Don,

This is Lance, I've bought your book finally. Really remarkable!
I love it, and I will recommend your book to my friends.
Moreover, I am planning to visit Boracay for vacation in the end of Oct.
I will go alone, any suggestions for me?
I have limited budget, I guess I can't afford 5* hotels.
I am contacting some domestic hostels for further info.
Any good hostel you will recommend?
Anyway, I think you're very bust, I saw your video on your blog.
Take good care of yourself, and have a nice trip.
I will appreciate your advises!


BR,

Lance